Originally published at
indyreader.org/node/129
On a sunny afternoon in Downtown Baltimore, the Inner Harbor was bustling with seasonal tourists, happy hour enthusiasts, and Friday's rush hour traffic. Amidst all of this, students, teachers, and education advocates assembled in front of the Harbor's amphitheater to address an issue they feel is essential to the future and survival of Baltimore City youth.
On Friday, May 30th, Peer 2 Peer (P2P) Youth Enterprises, a coalition of approximately 20 local youth organizations marched to the Legg Mason building on Pratt and St. Paul Streets to let their voices be heard and to announce a hunger strike to commence that evening. For about a month, P2P have been engaging in activities from workshops to camp-outs in front of City Hall to protest Mayor Sheila Dixon's refusal to appropriate $3 million in funds which would create knowledge based jobs for 700-1000 young people in the P2P network.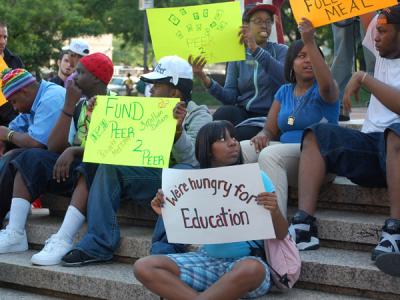 "It's outrageous that the City is not giving $3 million to young people to do positive work. When the city was predominantly white, about 20 to 40 percent of the city budget went to education. Now it's 11 percent. If you count the youth programs, maybe it goes up to 12½ percent. It's still a racist reduction," said Bill Bleisch, a teacher at Baltimore Polytechnic Institute.

In March, the Baltimore City Council unanymously passed a resolution supporting the measure, but when it was time for formal voting to commence, only three out of the 14-member City Council voted to support it. "It was very disappointing," said Abeni Nazeer, P2P media relations officer.

14th District Councilperson Mary Pat Clarke, 7th District Councilperson Belinda Conaway and 4th District Councilperson Bill Henry were the supporters.

Nazeer asserted that the mayor, the city council, Baltimore City Schools System Chief Executive Office Dr. Andrés Alonso, as well as nonprofit organizations need to come together to find a way to create the $3 million. "Adults need to support us," Nazeer said. She also included Gov. Martin O'Malley, who contrary to his nemesis – then Gov. Robert Ehrlich – vowed during the 2007 gubernatorial campaign that he would support the Thornton Law to fully fund the city's education budget. O'Malley has yet to do so.

The council members that did not support the resolution were James B. Kraft, 1st District; Nicholas D'Amado, Jr., 2nd District; Robert Curran, 3rd District; Rochelle "Rikki" Spector, 5th District; Sharon Green Middleton, 6th District; Helen Holton, 8th District; Agnes Welch, 9th District; Edward Reisinger, 10th District; William H. Cole IV, 11th District; Bernard "Jack" Young, 12th District; Warren Branch, 13th District and Stephanie Rawlings-Blake, President.

Many speculate that it was pressure from Dixon that forced council members to vote against P2P funding. To this date, she has refused to formally meet with P2P representatives to discuss the issue.

Two weeks ago the coalition began camping out in front of City Hall. On Day 3 of their four day camp out, Dixon surprised them with an appearance, only to make comments that dismayed the coalition. She was quoted as saying that the young people present could get jobs at Target, which was not only contradictory to what the coalition was campaigning, but an insult to their mission. P2P is seeking funding for programs like tutoring, mentorships and apprenticeships to teach others entrepreneurship and how to develop a career.

"Target is not a comparison to Peer 2 Peer," said Chris Goodman, one of P2P's organizers, who is still calling for a meeting with the mayor.

"We know there is money to fund Peer 2 Peer, because there is an $88 million rainy day fund for emergencies. The state of youth in Baltimore City is definitely an emergency," he said. The $3 million figure is derived from the interest from the $88 million surplus.

According to P2P media officials, the local mainstream print and broadcast media has erred as well, several of whom identified P2P as an either an after school program or a summer program.

"It's employment and it's educational. Basically it's about young people being employed to pass on knowledge," said Goodman.

To the contrary, it is a year long program designed to create jobs and careers within a knowledge based economy. "This is a great program," said Terrance Porter.

Another misnomer is that P2P is only of one body. It is a 20 body coalition, comprised of long standing youth led organizations such as The Baltimore Algebra Project, Wide Angle Youth Media, Kids on the Hill, Youth As Resources, The Baltimore Urban Debate League, The Hip Hop Congress of Baltimore and others.

They were also inaccurate to say P2P were asking for rainy day funds, instead of the interest from it. Many also contend that the local mainstream media's reporting gives Dixon excuses for not funding P2P, citing a sluggish economy. However, the buildup up of areas like the Harbor provides a contradictory message, giving the coalition even more fuel for their hunger strike. "The youth are starving of an education," said Goodman.

P2P leaders and advocates directed the protestors through chants and gave speeches regarding education. It was followed by an open mic session that interweaved socially conscious chants, spoken word and hip hop.

As the event concluded, committed hunger strikers were transported to St. Johns Church – an institution with a long history of community activism – where they were provided shelter. The church in the last couple of years entered into a partnership with Red Emmas, a worker owned coffeehouse and bookstore in Mount Vernon. Red Emmas is sponsoring the hunger strike at the facility.

To the young people, the hunger strike is a necessary strategy to attain a critical goal. There are no plans to end the hunger strike until the mayor and the city council acquiesce to their demands.

Hip Hop Congress of Baltimore Co-President Daimen Poole sums up the attitude among these young people—"The youth are ready to move. They underestimate the power of our voices."

For more information on Peer 2 Peer Enterprises, contact Chris Goodman at 443-957-5346.