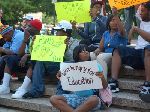 On a sunny afternoon in Downtown Baltimore, the Inner Harbor was bustling with seasonal tourists, happy hour enthusiasts, and Friday's rush hour traffic. Amidst all of this, students, teachers, and education advocates assembled in front of the Harbor's amphitheater to address an issue they feel is essential to the future and survival of Baltimore City youth.
On Friday, May 30th, Peer 2 Peer (P2P) Youth Enterprises, a coalition of approximately 20 local youth organizations marched to the Legg Mason building on Pratt and St. Paul Streets to let their voices be heard and to announce a hunger strike to commence that evening. For about a month, P2P have been engaging in activities from workshops to camp-outs in front of City Hall to protest Mayor Sheila Dixon's refusal to appropriate $3 million in funds which would create knowledge based jobs for 700-1000 young people in the P2P network.
More hunger strike coverage:
Baltimore City Students to Hunger Strike for Youth Employment
|
P2P hunger strike kicks off with march and rally
|
A letter from a hunger striker
|
P2P Hunger Strike Schedule of Events
|
Video Coverage and Interviews with the hunger strikers
|
Audio from the "Mayor's Night In" : P2P Hunger Strikers and Supporters Speak Out
Coverage of "Operation Occupation":
Algebra Project Students Rally to Save p2p Funding in Baltimore Public Schools
|
Day 2 of "Operation Occupation" - Demanding Baltimore City Restore Funding to Peer2Peer Educational Programs
|
Youth takeover City Hall!!
|
Update: Police End peer2peer Camp-Out